Ballard Idaho Grilling Cheese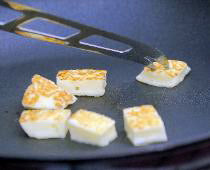 A traditional semi-firm Mediterranean grilling cheese with a distinctive layered texture. It is mildly salty with a rich buttery taste. Our Idaho Grilling Cheese can withstand a tremendous amount of heat without melting. It develops a delicious golden crust when grilled, BBQ'd, or fried. A must-try for fans of Halloumi or Provoleta.
Grilling Cheese Pickup Information
Ballard Idaho Grilling Cheese is made fresh to order and needs to be ordered by 10:30 am Mountain Time on Monday for pickup on Tuesday afternoon. 
To pick up your cheese at the Ballard farm, please text or call our office phone at 208-934-4972 or cell phone at 208-420-1576 or email us at ballardcheese4u@yahoo.com
Grilling Cheese Shipping Information
Idaho Grilling Cheese ordered by 10:30 am Monday will normally be shipped Tuesday and arrive by Friday.